The weather is (almost, sort of, just go with me here) getting warmer! So, let's go bathing suit shopping!!!!!
All right, I see your point. Bathing suit shopping is NO FUN. None. There is nothing is this world guaranteed to make you feel crappy about your own bodacious bod than having to try on bathing suits. Except you can escape about 80% of the awfulness by doing your shopping online and trying them on in your own bedroom. Seriously. I realize that sounds crazy but I'm pretty much an expert on online shopping since I simply can't drag three kids to a store and doodle around trying stuff on. If I can't get it shipped to me then I'm never getting it. Simple as that.
Some Important Points to Consider:
1) Good places to start are:
-Lands End: they have really solid suits that hold up well. They offer a variety of styles, nothing too skimpy, and you can go with bra sizing and body sizing to address whatever your specific needs are.
- Victoria's Secret: I know, I know, you're not an Angel Supermodel Sexpot. While they do have some eyewateringly tiny suits here and there, they also have a lot of reasonable styles and once again: bra sizing. So important.
- ASOS: I recently discovered this site, they're sort of like a British version of Forever 21. A lot of their styles are a bit more adventurous but they do have some cute stuff, and they have extended sizes including petite/tall/plus and very fast, very free shipping and returns. So if you hate it, no sweat on your part.
-Aerie: I realize it seems like their target market is fourteen year olds, but if you give them a shot they really have some cute bathing suits. They're mostly bikini's but they have a wide variety of styles and cute retro cuts. Also: free returns. The holy grail of online purchasing.
2) Read reviews! Not all sites have them but many do and they can be your best friend. You can usually find out if an item runs small/big, if the straps are too long or if the colors are true to the image online. A lot of hassle can be avoided if you find out ahead of time whether you should go up or down a size.
3) Sizing: In addition to reading reviews read the size chart on the site. This too will help narrow down exactly what size would fit you best. If you find a place that offers free returns go ahead and get multiple sizes to really ensure your best chance of a match.
4) Free shipping. Always go with free shipping when possible. Sometimes it's worth it to buy a few suits to try on so you can reach the free shipping point.
5) FREE RETURNS!!! This point is so important it deserves caps lock and three exclamation points. Look for a place with free returns or it's simply not worth the five or more dollars to return unwanted items. Some places will charge you for returns by mail but you can drop it off for free at their store (i.e. Victoria's Secret).
So, really all you need is a credit card and a free afternoon. I realize not everyone has those but if you do, going after a suit online can be the best way to do it.
Now that we've covered those points, let's oogle some bathing suits.
This is the striped rash guard and boy shorts from lands end. They rash guards are UPF 50 which is amazing for those like me who like to show off their Irish heritage by turning beet red and freckling when we get any sun. They're really cute, come in approximately five jillion patterns and colors, and cover you without being old lady-ish. Same with the boy shorts. No cheeks hanging out but you still feel sassy.
This is the Forever Halter from Victoria's Secret. I don't know why it has such a dramatic name. Better than the "Weekend At The Pool Halter" I suppose. Normally I go for a bathing suit with bra sizing but I read the reviews on this one and they were pretty adament about the fact that it a) covered everything and b) stay in place really well. With two handsy toddlers I need these things. I bought it in Navy blue because everyone in the family has Navy blue bathing suits except Audrey. She has pink and white stripes with little pictures of popsicles. I can't do popsicles but I can do Navy.
The Bridget bikini top and hi-rise bottom. This is so adorably retro. It comes yellow which is also so pretty. I would love to wear something like this but I am super short and fear that "high waisted" would translate to "up under my arm pits". Also, Sean does not understand high waisted bottoms. They confuse him. It's like the opposite of a tankini I guess. Someone please buy this.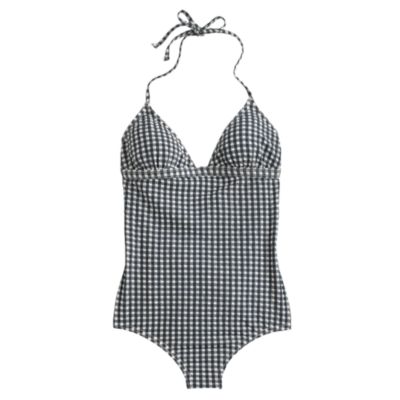 This is from J. Crew and it's their gingham seersucker v-halter one piece. Such a very long name for a very simple suit. I will confess that I would love to find a really good one-piece but my top and bottom situations are not at all in proportion to each other. Lands End has some great suits that have bra sizing on top with separate body sizing but I haven't quite found what I'm looking for there. This suit costs many, many American dollars and does not have free returns but is so darling.
There you go. I hope I have armed you with much frivolous knowledge of the online shopping world that will allow you to find a bathing you that you feel like a mega super babe in. Or just a really great version of yourself. Either one.
So get out there and rock it.